Universal Central Tube Slitter
Developed specifically for technicians working with central tube ribbon cables, the UCTS (Universal Central Tube Slitter) tool opens central tubes easily and safely with one pull! Once the tube is opened, rotating the jaws and spinning around the tube enables a precise and clean ring-cut to remove the excess tube, leaving the ribbon fibers undamaged. With just a turn of the dial, the blades can be adjusted to work on all central tube sizes between 4.75mm – 18.5mm. The UCTS makes MID-SPAN tube access a snap.
Find a Distributor

Specifications
UCTS Central Tube Ranges
Tube OD : 4.75mm – 18.5mm
Blades : One full revolution of thumb knob dial is 1.25mm of blade movement
Small Slitting Channel : Tubes 4.75mm to 10.5mm
Large Slitting Channel : Tubes 12.5mm to 18.5mm
Ordering Information
| Part Number | Description |
| --- | --- |
| UCTS-001 | Universal Central Tube Slitting Tool |
| UCTS-001-BLADE | Universal Central Tube Slitting Tool Replacement Blades |
Resources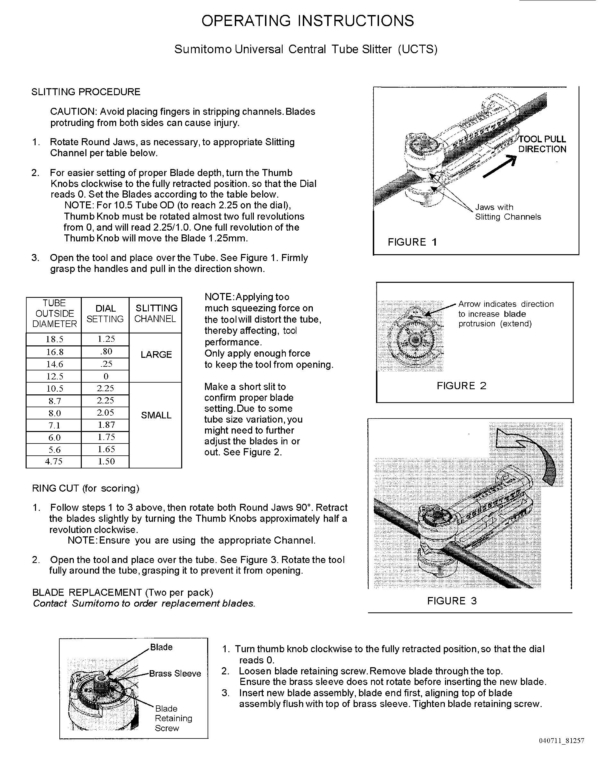 UCTS Helpful Hints
Before setting blade depth always retract blade to the "0" position by turning clockwise (see Figure 1). Then turning counter clockwise (direction of arrow) to the selected blade depth setting.

Figure 1:
When slitting tubes, firm consistent pressure (squeeze) is needed to open tube correctly. Excessive pressure could cause the tube to collapse or become out of round and therefore making inconsistent cuts. When inserting into the tool, keep tube as straight as possible in the channel. Make a short slit to confirm proper blade setting. Due to some tube variation you may need to further adjust the blades in or out (see Figure 2).Figure 2:
Features
Technician Friendly, Ergonomically Designed Handle for Easy Grip.
Cost Saving Replacement Blades
Flexible Design, Ideal for Both Mid-span & End Access.
Facilitates Slitting Central Tube Longitudinally and Also Makes Precise and Clean Ring Cuts.
Adjustable Depth Blades and Rotating Tube Jaws to Accommodate  Multiple Tube Sizes.
Enables Quick Fiber Access and Works on All Central Tube Sizes from 4.75 mm to 18.5 mm.