Committed to Continuous Innovation
Sumitomo Electric Lightwave (SEL) foresaw the migration to an all optical fiber network as early as 1983 when it first opened its doors. — has positioned Sumitomo Electric Lightwave as a recognized leader in the innovation, design, development, and manufacturing of advanced and integrated end-to-end solutions for data center, enterprise, and communication network customers. These technologically advanced solutions help our customers simplify network complexity, while improving performance, cost savings, and network efficiencies. By drawing on R&D, resources and expertise both internally and from Sumitomo Electric Industries, we provide a breadth of advanced optical fiber solutions and options that give network managers the freedom and flexibility in network design.
We're Ready to Help.
When our customers tell us they need a solution, we listen and tailor the product solution to meet the customer need. We're ready to be a part of your network infrastructure team.
Serving the markets of North, South, and Central America, Sumitomo Electric Lightwave is empowered by the vast, worldwide Sumitomo Electric Group to address the growing demand for new and better technology.
The Leading Force in Information and Communications Technology
Sumitomo Electric Industries, Ltd. is a global corporate group comprised of 395 subsidiaries and affiliates and over 270,000 employees in 40 countries around the world. SEI is a global Fortune 500 Company—the only optical fiber and cable manufacturer on the list, as a testimony to its continued growth, profitability, and stability. SEI has long been a leading edge force in the advancement of information and communications technology through decades of pioneering industry-changing innovations and solutions that have led to the advancements in optical fiber networks we witness today.
As pioneers in optical fiber and connectivity innovations in Asia and throughout the world, Sumitomo Electric Industries, our parent company, passes its expertise on to us, giving us a competitive advantage that we pass right along to you.
The synergy among all the Sumitomo Electric Group companies ultimately enables revolutionary, advanced innovations that empower the information and communications industry and our customers.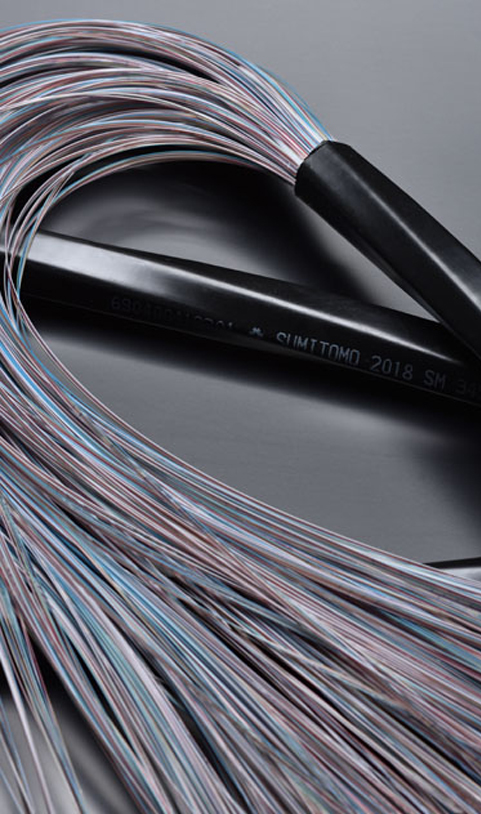 Customer-Derived Tailored Innovations
The hostile environment ribbon cable and the new Quantum Splicers are examples of Sumitomo Electric's Customer-Derived Innovations, inspired through customer input. When our customers tell us they need a solution, we listen, and tailor the product solution to meet the customer need and we extend our appreciation to our customers to whom we owe many of our industry 1st innovations and continued leadership in mutually providing the best technology has to offer.