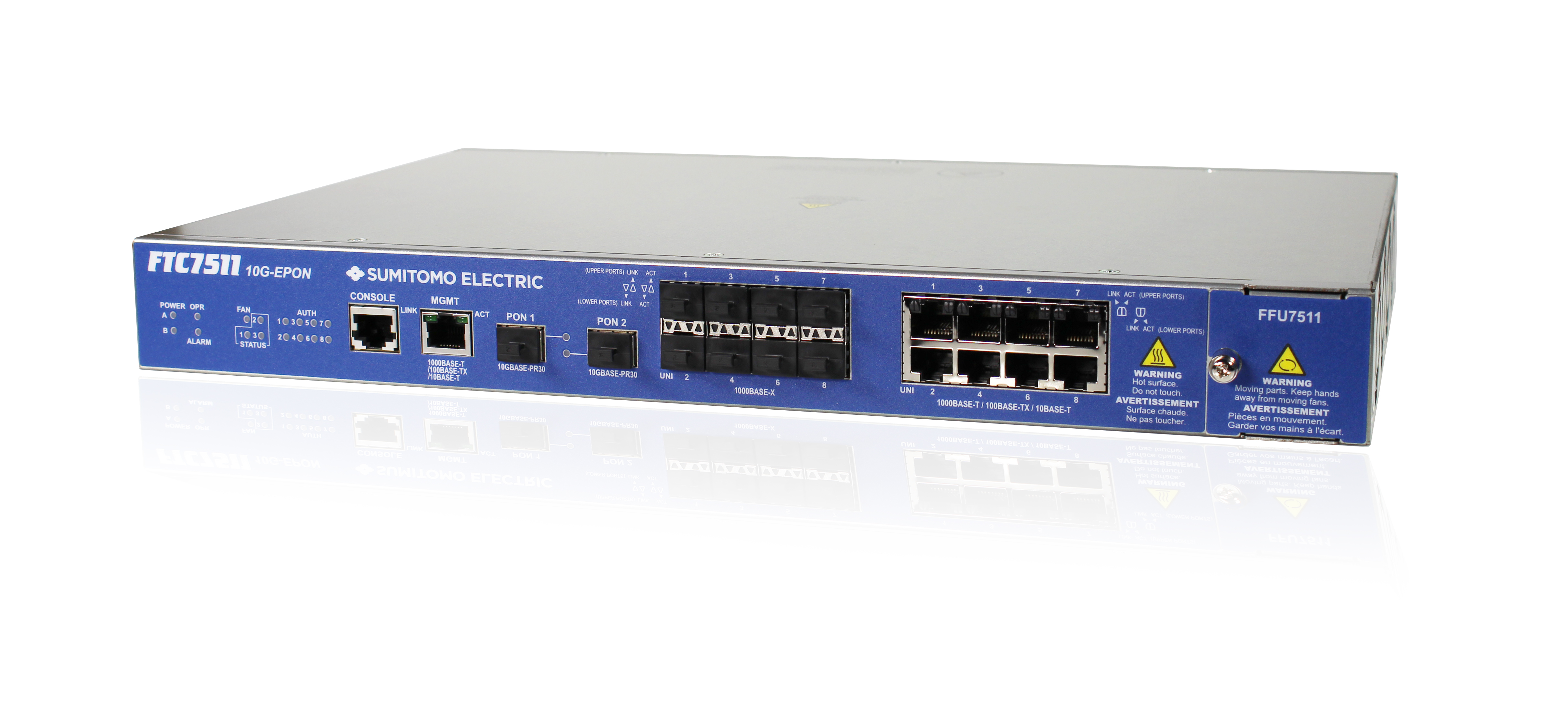 RALEIGH, NC. – 07/18/17– Sumitomo Electric Lightwave (SEL), a Sumitomo Electric Industries Group company and a global leader and pioneer in PON technology, announced the launch of its FTC7511 ONU Concentrator (ONU-C). The ONU-C is an innovative Fiber-to-the-Distribution-Point (FTTdp) solution that services clustered developments with per-subscriber provisioning, management, and QoS not available in traditional FTTdp designs. It features 8 x 10GEPON ONUs within a 1RU temperature hardened compact enclosure incorporating a common ONU transceiver and power source that provides dramatic optical budget and power savings compared to 8 individual ONUs. This attribute allows operators to provide services to subscribers at longer distances (up to 40kms). The FTC7511 provides an RJ-45 or SFP cage User Network Interface (UNI) to each subscriber.
Cable operators face unique challenges with traditional FTTx deployments. These challenges include limited trunk fiber, increased distances, management of deployed equipment, and in some cases a geographically concentrated/dispersed customer base. The feature set of the FTC7511 ONU-C addresses these deployment challenges:
Main Features of the FTC7511 ONU-C
Increased distance via optical budget savings
Power Savings
More subscribers per ODN
Access and CPE equipment independence
Simpler installation & operator maintenance
CPE plug-and-play
Sumitomo has leveraged years of global experience developing Optical and Access technology to deliver innovative solutions for the worldwide xPON markets that provide the right technology for the right place in the network. As a pioneer in xPON technology, our products bring an extensive background of experience and expertise to you in the design and manufacturing of only the highest quality equipment.
For more information about Sumitomo Electric Lightwave's products, services, or upcoming tradeshows:
Sumitomo, providing the right technology for the right place in the network!
About Sumitomo Electric Lightwave
Sumitomo Electric Lightwave (SEL) is a recognized leader in optical fiber technologies and solutions for data center, enterprise, and communication networks. Drawing from research and development from its parent company, Sumitomo Electric Industries, Sumitomo Electric Lightwave offers a variety of advanced products in ribbon technology, air-blown fiber, fusion splicing, Optical Access solutions, and connectivity solutions including splice-on connectors. For more information on Sumitomo Electric Lightwave or its products, visit https://sumitomoelectriclightwave.com or call toll-free at 1-800-358-7378.
# # #
Technical Contact
Chris Griffith
Director, Networks Technical Marketing
Sumitomo Electric Lightwave
Phone:  678-576-3378
Email: CGriffith@wintechcomputersystems.com
Media Contact
Jacob Godwin
Marketing & Communications
Sumitomo Electric Lightwave
Email: jgodwin@wintechcomputersystems.com