Data center construction is booming worldwide. And as data traffic grows exponentially, so is the need for hyperscale fiber optic networks. At any given moment, these infrastructure systems must be able to scale efficiently according to the needs of the network. Optimal operation requires higher-density and reliable fiber connection technology.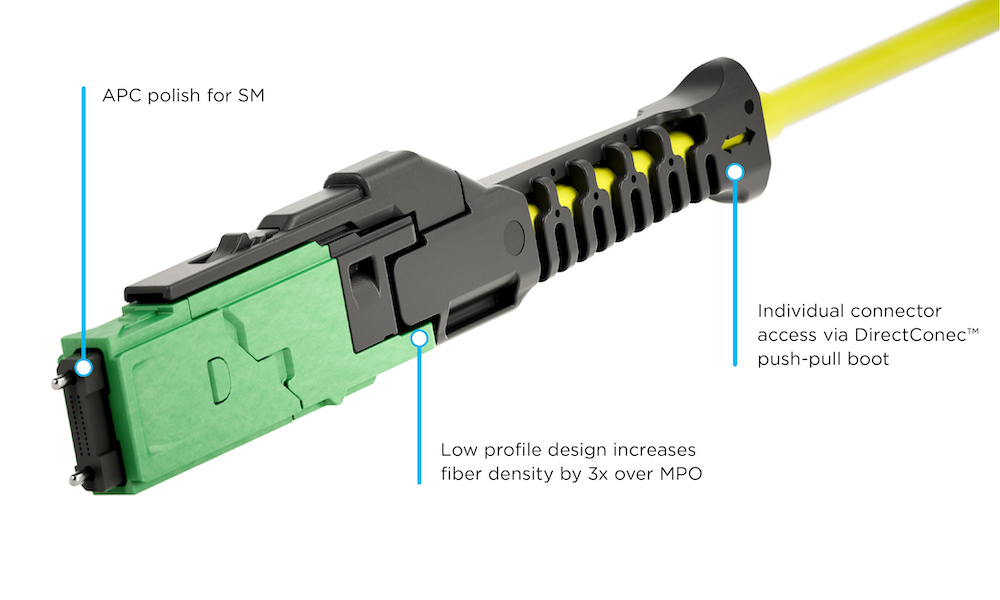 To meet the complex connectivity needs of today's data centers, Sumitomo Electric Lightwave (SEL) has worked with US Conec Ltd. (USC), a global leader in the design and development of high-density optical interconnects, to add yet another innovative HD connector to its portfolio; the MMC Connector. Anchored in proven MPO technology, this connector increases MPO connector density by up to 3x – resulting in 5184-f interconnects within a 1RU space.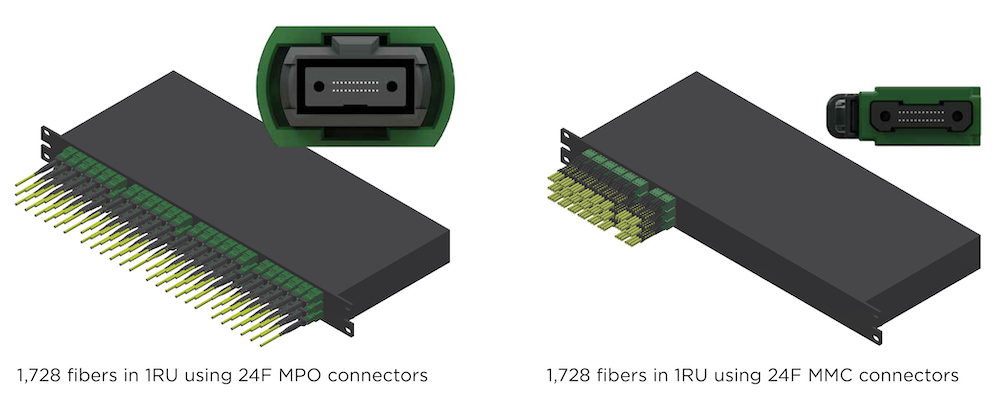 Innovative features of MMC technology include:
It is comparable to the fiber count capacity of conventional MPO products, although the connector size is three times smaller (Fig.1). The unique housing design (e.g., latching mechanism; push-pull boot) enables a smaller connector design.

The smaller size results in 5184-f interconnects within a 1RU space. This means it can be used with an ultra-high-density panel (Fig.2) or an ultra-high-fiber count pre-connectorized cable for data center connectivity.

This connector is compatible with conventional MPO connectors (Fig.3) due to fiber pitches (see the guide-holes dimensions in Fig.4).

This density increase over traditional MPOs is achieved by reducing both the height and length of the conventional ferrule by half (TMT Technology)

The MMC's optical performance complies with IEC61753-1 grade B, an ultra-low-loss class, thanks to a combination of USC TMT ferrule and housing design and SEL's highly precise MT ferrule manufacturing method and controlled fibers (Fig.5). Also, to meet market demand, SEL has developed thinner 24f fiber cordage with a 2mm outer diameter that can fit highly populated panels and cable applications such as 364f trunk cables. In addition, unlike past applications, multi-fiber connectors are now used outside environments to reduce splicing costs in the field. MMC connectors perform in severe temperature conditions such as -40 to 75 degree Celsius.

Other innovative benefits include:
DirectConec™ push-pull boot technology for user-friendliness (it locks into place) – uses the boot to activate the latch eliminating the space needed at the panel for finger access. This allows the connectors to be tightly spaced maximizing fiber density.
It can be used for "gang insertions" for high-fiber-count trunk or cable assembly installations. (Fig. 6)
Provides integrated course alignment technology which ensures the pin is guided directly and securely into the mating connector.

SEL has developed the revolutionary MMC Connector to provide the flexibility, reliability, precision, and usability required by today's hyperscale data centers. The unique design is based on tried-and-true MPO technology that meets industry demands and requirements.

DirectConec™ is a trademark or registered trademark of US Conec Ltd.