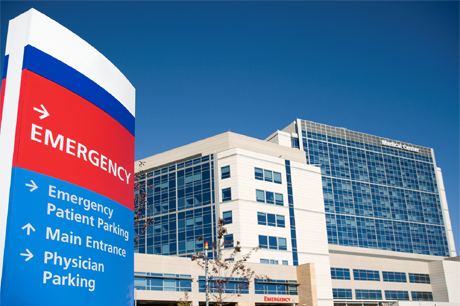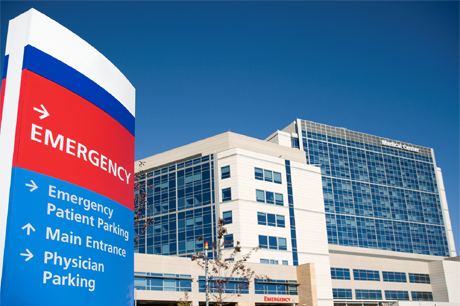 Creating the Infectious Disease Controlled & Patient-Safe Hospital-Healthcare Network with the World's Most Advanced Fiber Optic Infrastructure and Connectivity Solutions
Every facet of technology has and continues to change and advance at lightning speed, except for two — the decades old fiber optic installation methods that actually support those advanced technologies and antiquated connectivity solutions.
That is…until now. Sumitomo has solved the limitations of traditional fiber optic cabling and connectivity to bring the most advanced solutions for the zero downtime and patient safety requirements of the mission critical wired and wireless hospital-healthcare network with:
FutureFLEX® Air-blown Fiber — an environmentally green, complete end-to-end, splice-free optical fiber and pathway solution that provides not only unprecedented benefits for the LAN, but for physically separated networks for security, DAS, and other systems, as well. FutureFLEX delivers true bandwidth on demand, eliminates the need to enter or disrupt hard to reach, secure, and highly sterile & sanitized areas of the network for an infectious disease controlled, patient safe, and environmentally clean mission critical optical fiber network, plus much more.
Lynx2 CustomFit® Splice-On Connectors — for customized, on-site exact cable builds and terminations facilitating faster installations & MACs, faster repairs & restoration, and better performance for less downtime…without the shorts & slack and logistic delays of preterminated cables.
Why Kaiser Permanente, Sharp Healthcare, Penn State Milton S. Hershey Medical Center, Central DuPage Hospital, NIH (National Institutes of Health), Various VA Hospitals, Mayo Clinic, and Many Others Have Chosen FutureFLEX?
Traditional cabling systems are disruptive to the physical healthcare facility and its daily operations by requiring large installation crews who must lift ceiling tiles, re-enter conduit, and often re-access sterile and sanitized areas to install or pull fiber optic cable, make bandwidth upgrades, or complete any network moves, adds, or changes — increasing the risk of airborne pathogens. This old cabling technology is not only costly and archaic, but poses unnecessary infectious disease and patient safety risks. With FutureFLEX Air-Blown Fiber, those days are over.
In addition to ensuring patient and staff safety, today's hospital and healthcare facilities are being hard pressed to upgrade their networks to keep pace with data-intensive advances in medical technology. FutureFLEX® can handle the entire spectrum of hospital networking needs, from the LAN data backbone to distributed telephony and CCTV, imaging and radiology, fire and safety systems, and distributed antenna systems in 70 to 90% less time and labor costs than traditional cabling.
Features of FutureFLEX®:
Blows at speeds of up to 150 ft. per minute the exact type and count of fiber required whenever and wherever needed in MINUTES versus the days or weeks associated with a traditional cable pull for Real-Time Bandwidth on Demand for Immediate Scalability
Provides virtually unlimited pathway, fiber, and bandwidth capacity
Eliminates the need for often unused, wasted, and potentially soon to be obsolete dark fiber
Provides quick and easy real-time fiber installations, upgrades, expansions and MACs, even in hard to reach and highly sterile areas
Requires no construction work and re-entrance into conduit, ceiling tiles, floors etc. for fiber installations, upgrades, expansions, MACs or reconfigurations — eliminating the infectious disease risks from mold spores and airborne pathogens, as well as unnecessary downtime, and potential fiber damage
Eliminates the need for HEPA filtration systems, NAPEs (Negative Air Pressure Enclosures), patient moves, and other safety measures and their associated costs Provides a clean optical fiber system that complies with ICRA (Infectious Control Risk Assessment) and Joint Commission standards to create a patient safe and infectious disease controlled network
Delivers 38 reusable fiber pathways in a 4 inch conduit versus 3 non-reusable associated with traditional cables
Solves duct bank and congested conduit problems
Eliminates or reduces significantly the installation and cost of conduit and innerduct, and the installation of new conduit
Delivers the industry's ONLY environmentally green Renewable, Reusable, and Sustainable fiber optic system that has no end to the fiber or bandwidth life cycle — fiber type blown out undamaged can be immediately recycled or reused in another part of the network
Requires only 2 installers for fiber installations, upgrades, and reconfigurations versus the large crews associated with traditional cabling
Saves 70 to 90% of the time and cost of optical fiber projects associated with traditional fiber optic structured cabling systems
Integrates easily with your existing cabling system
Once the pathway is installed and the fibers blown in our connectivity and hardware offerings give network designers and installers the widest range of options as well as flexibility to tackle the varying nuances and complexities of any network build. These options and flexible solutions include…
Lynx2 CustomFit Fusion Splice-On Connectors

Largest range of connector and media options in the industry covering single fiber, duplex and even 8ct and 12ct MPO (multiple SMF and MMF options)
This breadth of product ensure availability of the precise connector to optimize network density and performance
Aesthetically Appealing, High Quality, Quick and Easy Terminations EVERY TIME!
Utilizing Sumitomo Fusion Splicers ensures instant quality results and no reset-up or rework

FutureFLEX® Air Blown Fiber Solution and 4th Level Product Families = Wide Range of Hardware Options

Wall and Rack Mount Panel Options with ranging features and benefits to accommodate varying network requirements and budgets

Such as…Stationary, Simple Slide-Out or Flexible Slide-Out for Front/Rear and Angle Down access

Robust offering of cassette modules for LGX to High Density requirements PLUS the highly sought after FOX Splice-Cassette that allows for the utmost flexibility at the demarcation point
Pre-terminated cable assemblies and hardware options for the fastest of deployment requirements

Sumitomo Electric Fusion Splicers and Accessories

Large breadth of Fusion Splicer products including 12ct Ribbon, Core and Active Clad Alignment, Fixed V-Groove and Smallest HandHeld fusion splicers that yield options to fit a wide range of applications and budgets
The Quantum series splicers and accessories boast first and only value add features such as dual heater ovens to eliminate splicing bottle neck, auto adjusting cleavers that keep technicians going and eliminate requirement for sending equipment in for repair
Fastest product support via 24 hour technical support hotline (888-SPLICER) and ONLY one day repair turnaround when needed
All splicers are compatible with the Lynx2 CustomFit Fusion Splice-On Connectors
For information on the products and solutions mentioned here visit our products page here.